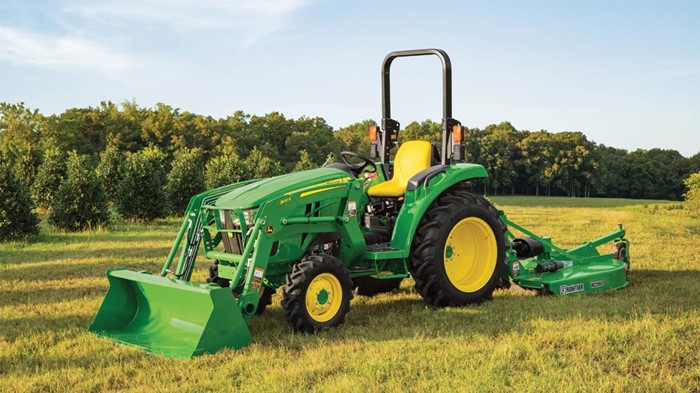 ---
John Deere recently unveiled three new compact utility tractors, the 3D Series 3025D, 3035D, and 3043D. Each model number denotes its horsepower rating: The 3025D produces 25 horsepower (18.6 kilowatts), the 3035D is rated for 35 horsepower (26.1 kilowatts), and the 3043D is a 43-horsepower (32.1-kilowatt) tractor. Each tractor weighs 2,778 pounds (1,260 kilograms) and has a maximum hauling capacity of 4,000 pounds (1,814 kilograms).
John Deere says its new tractors are versatile enough to "tackle everything from pulling and hauling to cutting and tilling"; each model has the option of supporting a 300E Loader implement with dual-pump hydraulics that independently manage steering and lifting. The 3D Series models are covered by a two-year/2,000-hour, full machine warranties as well as six-year/2,000-hour powertrain warranties.
Control & Maneuverability
Deere's 3D Series tractors feature gear-driven transmissions, which have four speeds across two ranges, offering a total of eight forward and in reverse. The gearshift lever is mounted to the fender for easier and more comfortable shifting. John Deere built the new tractors with heavy-duty drivetrain components, including a large spiral bevel gear that the company says provides "maximum durability and increase torque and power to the ground." The 3D Series also has a hydrostatic steering system that offers a tighter turn radius and a longer wheelbase and wider stance, all of which result in enhanced control and maneuverability on nearly any terrain.
"Our customers need rugged, tough machines that can tackle a variety of jobs, just like they do. Whether they own large acreage and want a simple, reliable machine for a variety of jobs, or grow crops, like fruits and nuts, and need a durable support tractor, the versatile 3D Series provides a great solution," says DeMark Cole, product marketing manager at John Deere. "Customers are demanding a gear-drive transmission in the compact utility tractor market, and our 3D tractors provide just that – a simple, dependable, affordable gear-drive machine."
---
Other Standard Features
The 3D Series tractors have a number of attributes that allow them to work hard whenever and for as long as you need them to. Each model has a 10-gallon (37.9-liter) fuel tank, enough to run for an entire eight-hour shift on a single tank, which is located in the rear to prevent accidental spillage of diesel fuel on important components. If you need to work early in the morning or late at night in low-light conditions, you can also add halogen or LED work lights.
Two other important features are the new Quik-Knect System for implements and a three-point hitch with a lift capacity of just under 1,600 pounds (725.7 kilograms). Quik-Knect has two discrete connectors, one for the PTO shaft and the other for the implement itself. Just slide the tractor and implement connectors together until they click, and you're ready to go to work.
Source: Deere & Company
Questions? Comments? Visit the AuctionTime.com Forums to ask questions, get answers, and share your thoughts.