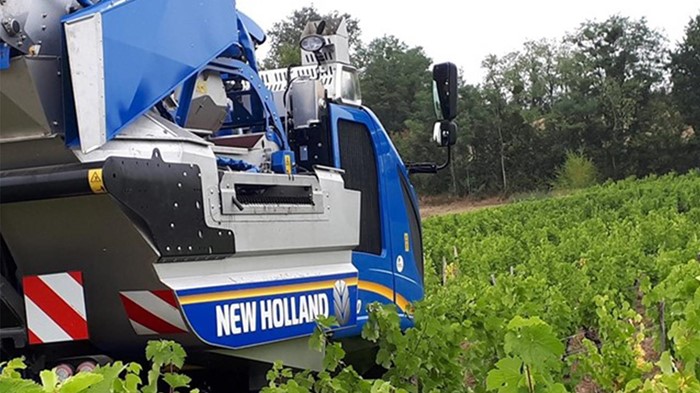 ---
New Holland recently released the Combi-Grape, a sorting system designed specifically for the Braud 8030L compact grape harvester, created with winemakers in mind as a solution for destemming and sorting premium red varietals. The new system builds on the success of the original New Holland Braud on-board sorting table, the Opti-Grape, first released in 2013.
About The Combi-Grape
The Combi-Grape uses receiving conveyors to move the grapes to the destemmer, expelling stems from the back of the machine. All petioles can be removed inside the harvest. Free grapes and other material go to the sorting table with open rollers that allow grapes to fall into the hopper while leaf pieces and petioles flow to the side and drop to the floor. The sorting table can be adjusted to space rollers from 14 to 23 millimeters. Roller speed can also be controlled from the cab using the multifunction handle. The sorting table slides to the side of the machine for easy washing. The Combi-Grape is suited to most conditions and grape varieties.
Braud Know-how
"Processing the grapes can be done directly, without crushing the harvest and with exceptional cleanliness," says Pierre Cayrouse, Grape Harvester Product marketing specialist for Grape Harvesters at New Holland France. "Our machine is perfectly sized for the needs of medium-sized vineyards. The controls are at the driver's fingertips, making operation easy! The 8030L Combi-Grape is a concentrate of Braud know-how."
Source: CNH Industrial