---
Volvo Construction Equipment, a well-regarded manufacturer of excavators, articulated haulers, wheel loaders, pavers, pipelayers, and more, plans to exhibit three new compactors at the World of Asphalt 2018 convention, to be held in Houston, Texas, March 6-8.
Rolling Into The Future
The DD110C, DD35B, and DD105OSC asphalt compactors represent Volvo's continued commitment to innovation. These adjustable 8-amplitude oscillating rollers all feature Volvo's intelligent machine control technology, uptime-enhancing features and services, and lifetime frame and structure warranty.
---
If you swing by the Volvo Construction Equipment booth 1923 at the show, you'll get a good look at the company's latest B-series pavers and soil compactors. There will also be experts on hand to answer any questions you might have regarding some of the new technologies found in the new models, such as Compact Assist with Density Direct, which refers to Volvo's exclusive Intelligent Compaction system capable of making and displaying real-time density calculations on a 10-inch touchscreen display located inside the cab. The system is capable of providing temperature mapping, pass mapping, and detailed information that ultimately lets the operator avoid under- or over-compaction while the mat is still soft. Attendees can also learn more about Volvo's exclusive telematics monitoring and reporting service, ActiveCare Direct.
Three Of A Kind
The Volvo DDC110C, which we covered in a post earlier this month, is a new highway-class double drum asphalt compactor that features a 66.9-inch (1.7-meter) drum width, 24,350-pound (11,045-kilogram) operating weight, and 148-horsepower Volvo D4 4-cylinder engine, making it the smallest unit in the DD100C series created to handle those big projects. Volvo's DD105OSC, available with an open ROPS/FOPS canopy or with an enclosed cab, has a 22,051-pound (10,002-kilogram) operating weight, 114-horsepower Volvo D3.8 4-cylinder turbo-charged engine, and a 66-inch (1.68-meter) rolling width.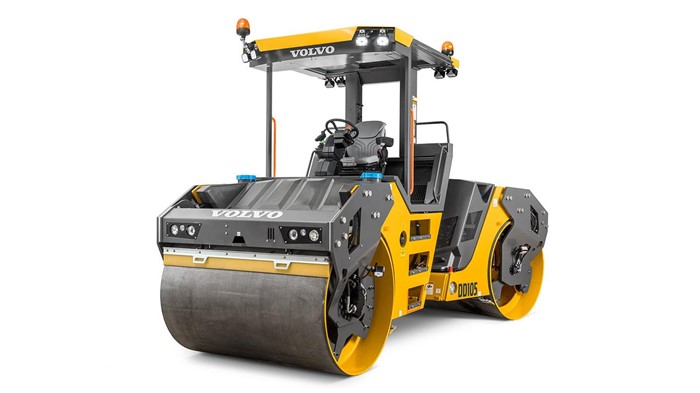 ---
These large compactors are designed to deliver the best compaction possible, in the fewest passes. The runt of the litter, the DD35B asphalt roller, is ideally suited to small-scale compaction projects, but isn't lacking for power where it counts. It features a new 49.6-horsepower Kubota D1803-CR-TE4B 3-cylinder engine, Tier 4 Final emissions regulations compliance, an 8,185-pound (3,713-kilogram) operating weight, and a 54.1-inch (1.37-meter) rolling width.
Source: Volvo