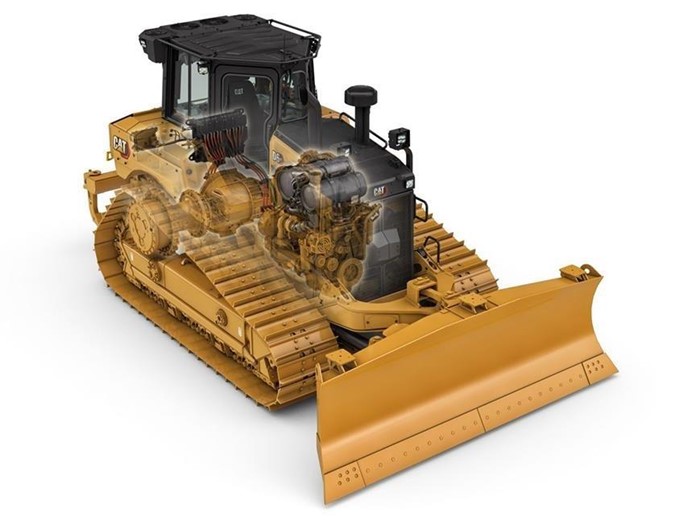 ---
Electric drive is the best way to maneuver a dozer, Caterpillar says, both for its increased agility and its impact on emissions reduction. And with that, the construction machinery manufacturer has unveiled its first high drive, electric drive crawler dozer, the Cat D6 XE.
Cat says that the D6 XE's next-generation Electric Drive supplies constant power to the ground with no gears to shift. Along with the new dozer's continuous push and extra maneuverability compared to a model with a traditional drivetrain, this helps to speed up cycle times for greater productivity.
The D6 XE also includes a new, more reliable C9.3B diesel engine for its other power needs, but still manages to top the outgoing Cat D6T's fuel efficiency by up to 35%, according to Cat.
The All-Diesel D6
Also making its debut is the new, standard D6, which is diesel-driven through a 4-speed, fully automatic transmission. It replaces the D6T in Cat's lineup. The company says that it's 20% more fuel-efficient than its predecessor, and that its new transmission helps to maintain more momentum and drawbar power during the push.
The net power rating for the standard D6 and D6 XE is 215 horsepower (161 kilowatts). The operating weights are approximately 47,900 pounds (21,700 kilograms) for the D6 and 48,500 pounds (22,000 kilograms) for the D6 XE.
---
Enhancements & Options
Both the D6 and D6 XE feature a new cab with a 10-inch (254-millimeter) touchscreen display. The seat is wider and more adjustable, while heating, cooling, storage space, and visibility have all been improved.
The dozers are available with either standard or Low Ground Pressure (LGP) tracks in two widths. Other options include VPAT (Variable Pitch Angle Tilt) or push arm setups, as well as various blades, attachments, and guards. And of course, there's a variety of Cat Connect GRADE technologies available to assist with blade position, slopes, and more.
Source: Caterpillar
Questions? Comments? Visit our forums to ask questions, get answers, and share your thoughts.