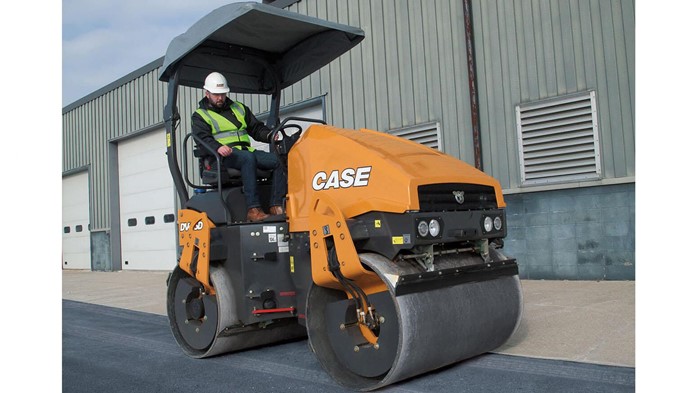 ---
CASE Construction Equipment is adding to its DV Series of vibratory rollers for small-to-medium-sized residential and commercial construction projects. The new models come with 43.5-horsepower (32.4-kilowatt) Tier 4 Final engines and various features to protect the surface of the asphalt while achieving the proper results in fewer passes.
Do No Harm
The three models include the DV36D and DV45D double drum rollers at 8,290 and 10,340 pounds (3,760 and 4,690 kilograms), respectively, and the DV45CD combination roller with front drums and pneumatic rear tires at 9,520 pounds (4,320 kilograms).
The DV36D and DV45CD have drums 51.2 inches (1,300 millimeters) wide, while the DV45D's drum measures 54.3 inches (1,380 millimeters). The drums have tapered edges to reduce tearing of the soft asphalt. You can also offset the drums to further minimize tearing on curves and tighten the turning radius at the same time.
The DV Series has high curb clearance and no overhangs. You can service each unit from ground level on one side of the machine. A 50-gallon (190-liter) water tank holds a full day's supply of pressurized, filtered water to spray on the drum.
Speaking of which, you can change the drum's vibration amplitude and frequency (2,700 to 3,420 vibrations per minute), and also set a top travel speed so the roller won't go too fast for the settings you've chosen. You can also let the roller start and stop the vibration automatically or do it yourself as another means of protecting the asphalt.
Proper Compaction, Fast
The DV Series is compatible with CASE's ACE Force Intelligent compaction system. ACE Force can help you achieve just the right level of compaction in less time, which reduces operating costs. It also documents the amount of compaction in use for project recordkeeping.
Finally, you can slide the vibration-isolated operator platform to either side for a better view of the roller edges.
Source: CASE
Questions? Comments? Visit the AuctionTime.com Forums to ask questions, get answers, and share your thoughts.