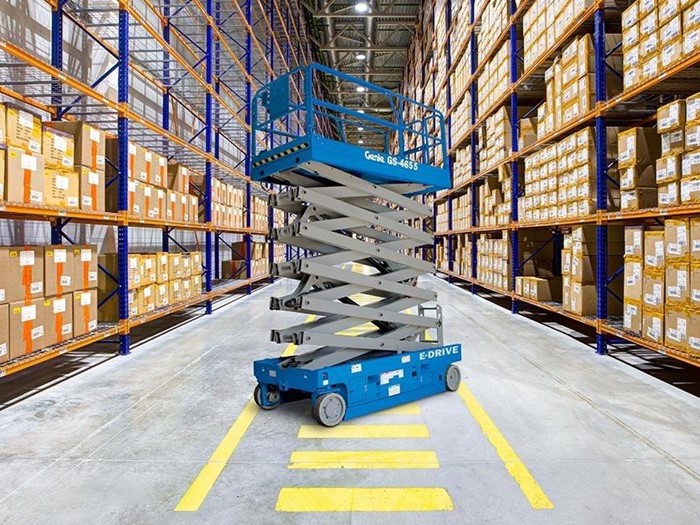 ---
Genie's new GS-4655 is a slab scissor lift with a high working height, a powerful lift capacity, and compact dimensions. It's also notable for its electric drive.
"Thanks to its heavy-duty, fully sealed front-wheel AC electric drive motors, the new Genie GS-4655 scissor lift is designed with sustainability, productivity, and a low cost of ownership in mind," said Genie product manager for Terex AWP for the Europe, the Middle East, and Africa, Zach Gilmor. "Replacing traditional hydraulic drive motors with its new AC system, this model relies on fewer hydraulic service points, reducing service time and costs for a cleaner and greener usage."
---
Specs
"We engineered this model to deliver the height and emissions-free power to work indoors and out, even in harsh outdoor jobsite conditions," said Gilmor.
Indoors, the GS-4655 has a maximum working height of 52 feet (16 meters); outdoors, the max working height drops to 34.5 feet (10.7 meters). It can lift up to 770 pounds (350 kilograms), or three people plus tools and/or building materials, Genie says.
The compact new lift has a 4-foot, 7-inch (1.4-meter) chassis width and weighs 8,150 pounds (3,700 kilograms). With its deck extension rolled out, its horizontal outreach measures 4 feet (1.22 meters). Steep ramps are no problem due to the unit's 25% gradeability, Genie says, and its 14-degree breakover angle aids in transport.
Other Features
The GS-4655 also boasts a regenerative braking feature, the Genie Smart Link control system, Genie Tech Pro Link handheld diagnostic tool compatibility, and proportional joystick lift and drive controls. It shares many common parts, design elements, and accessories with other Genie GS scissor lifts.
The GS-4655 should be available worldwide in Q3 of this year.
Source: Genie
Questions? Comments? Visit our forums to ask questions, get answers, and share your thoughts.