---
The lift manufacturer just released the GS-1330m earlier this year, and says it has reached this milestone thanks to high international demand and the Changzhou facility's ability to quickly ramp up production.
Genie says it will manufacture its 1,000th GS-1330m scissor lift within the next two months at the Terex Aerial Work Platforms plant in Changzhou, China, after having just introduced it earlier this year. The company attributes this remarkable milestone to high international demand for the lift and the Changzhou factory's ability to quickly ramp up production.
"The upcoming production of the 1,000th Genie GS-1330m scissor lift represents a breakthrough of local manufacturing in China and R&D capacity of Genie worldwide," says Johnny Tan, Terex AWP Changzhou's operations director. "Thanks to our world-class lean management practices, the Changzhou plant is able to utilize its production capacity to the maximum extent to better support the demand for this popular product from Terex AWP customers around the world."
The GS-1330m: A Close-Up
The GS-1330m is a lightweight, compact scissor lift from Terex's Genie brand. It weighs less than 2,000 pounds (907 kilograms), yet it still provides a maximum platform height of 12.8 feet (3.9 meters) and an 18.8-foot (5.7-meter) maximum working height. It can carry two workers or up to 500 pounds (227 kilograms).
Genie developed the maneuverable GS-1330m for the rental market. It excels in tight spaces or areas with weight restrictions, including those accessible only by elevator. It comes with platform overload sensing, and complies with North America ANSI and CSA standards as well as ISO guidelines.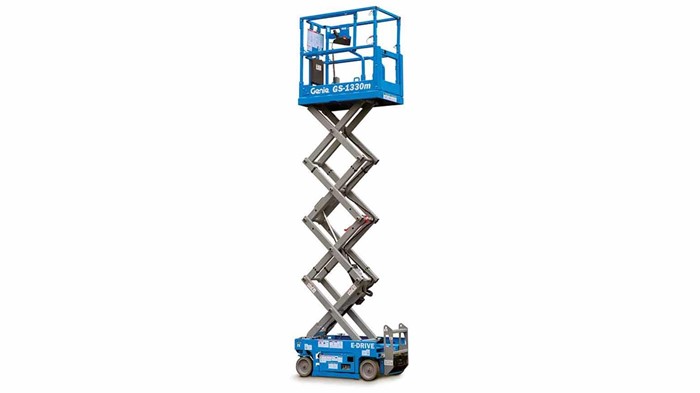 ---
DC Drive & Other Features
Genie endowed the GS-1330m with fully proportional lift and drive control. It runs on a DC electric system with all-day battery capacity, the company says, and can be driven by the operator even when extended up to its full height.
The GS-1330m also comes standard with platform swing gates and toeboards on each entrance, swing-out service trays, and the Genie Smart Link control system for easy troubleshooting. It's compatible with the Genie Tech Pro Link handheld diagnostic tool.
Source: Genie
Questions? Comments? Visit the AuctionTime.com Forums to ask questions, get answers, and share your thoughts.