---
Komatsu has developed a low-ground-pressure edition of its 45-ton (40.5-metric-ton) D155AX-8 crawler dozer. Thanks to wider and longer tracks, the new D155AX-8 LGP's impact underfoot is a mere 7.7 psi (53 kilopascals)—that's 47% less than the standard model. This drastically improves performance on slopes and flotation on soft ground.
"The D155AX-8 LGP is excellent for applications that require lower ground pressure and can be especially useful for energy and pipeline work," says Komatsu America Product Manager Chuck Murawski.
Wide Track
Komatsu designed a new undercarriage to support the D155AX-8 LGP's bigger tracks with eight fixed, mounted rollers on each side. The tracks are 12% wider gauge and 9% longer on the ground. All told, the increased dimensions yield a 72% greater footprint compared with the standard D155AX-8. This improves traction and stability while reducing soil compaction by nearly half.
The LGP model shares the same 354-horsepower (264-kilowatt) rating as the standard edition. Its cab includes the Palm Command Control System ergonomic control and features excellent visibility with no external ROPS posts. The first three years or 2000 hours of a D155AX-8 LGP's lifespan—whichever comes first—are covered by Komatsu CARE, whether the machine is bought, rented, or leased.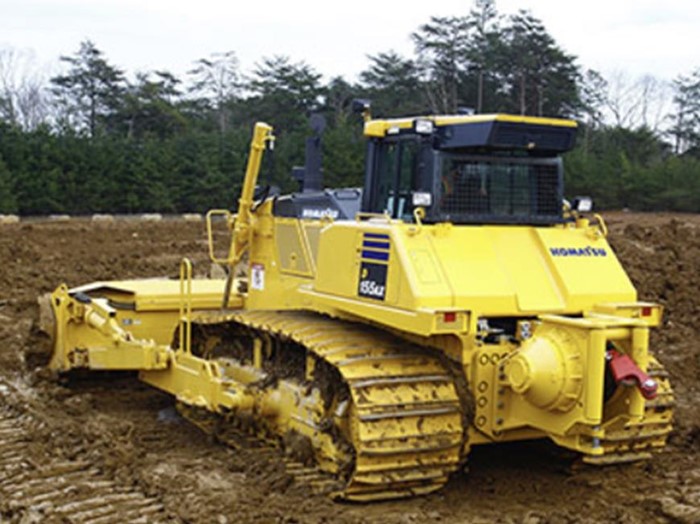 ---
Options
The D155AX-8 LGP can be used with high-capacity bushed or pitched semi-u blades or an angle blade. The bushed, dual-tilt semi-u blade has a capacity of 12.9 cubic yards (9.9 cubic meters).
Rear attachment options include a 7,860-pound (3,565-kilogram) counterweight and rigid drawbar, a hydraulic winch, and a long drawbar.
"When equipped with 38-inch (965-millimeter) extreme service shoes, angle blade, and towing winch, the D155AX-8 LGP has a higher operating weight compared to competitors for increased useable drawbar pull with a powerful towing winch," Murawski says.
Source: Komatsu
Questions? Comments? Visit the AuctionTime.com Forums to ask questions, get answers, and share your thoughts.