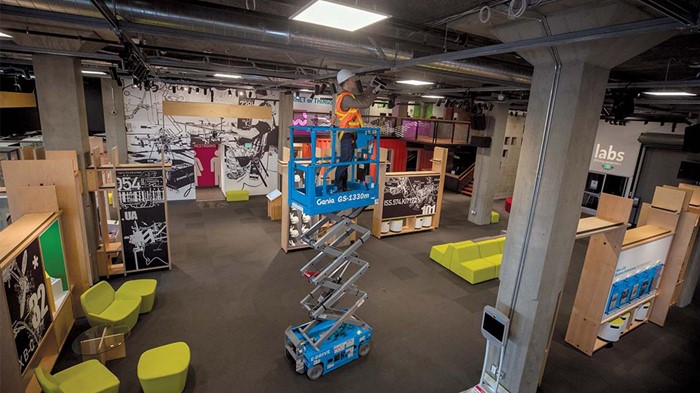 ---
In order to meet new global standards, Terex Corporation brand Genie recently announced that its Genie GS slab scissor lifts' specifications have been updated worldwide to adopt a uniform specification. Starting in December, all new Genie GS scissor lifts will be equipped with dual-zone control to enable outdoor use and will also come with load sense, standard folding guardrails (with the exception of the Genie GS-1330m), and standard swing gates.
Immediate Availability In North America
The Genie GS global-spec scissor lifts will go into production in Redmond, Washington, and Changzhou, China, in late 2019 with immediate availability in North America and China. Global deliveries will start in 2020.
Genie slab scissors, equipped with the Genie Smart Link dual-zone control, will now have two buttons on the platform controller that require the operator to select the Indoor or Outdoor zone of operation. When set to Outdoor operation, the lift will automatically restrict maximum platform height and occupancy.
Boost In Productivity, Drop In Rental Fleet Complexity
"Changes to the North American standards will impact all types of mobile elevating work platforms (MEWPs) — commonly known as aerial work platforms or AWPs — that Genie manufactures, including all Genie GS slab scissor lifts," says Mike Flanagan, Genie Product Manager, Terex AWP. "The updated ANSI A92 and CSA B354 standards are based on an ISO standard, driving global standards commonality with European (EN 280) and other international standards. One global standard offering for Genie GS slab scissor lifts will boost operators' productivity, while limiting rental fleet complexity. Taking advantage of the North American MEWP standards changes, we had the opportunity to harmonize the Genie GS scissor lift family worldwide, offering a more consistent, productive machine that's simple to use and intuitive to operate, as well as has the flexibility and versatility to be used in a variety of indoor and outdoor applications."
Source: Genie
Questions? Comments? Visit the AuctionTime.com Forums to ask questions, get answers, and share your thoughts.