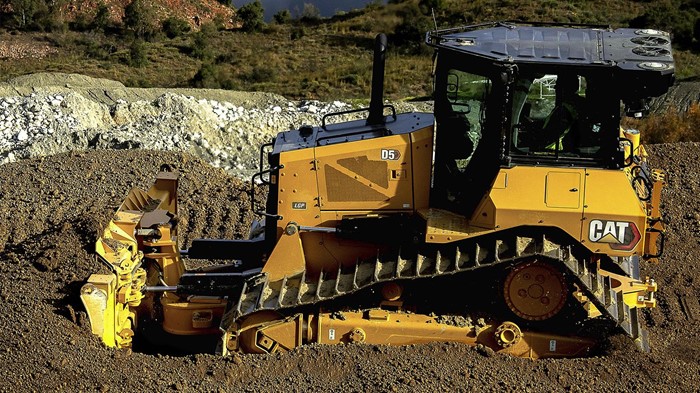 ---
Caterpillar has announced its new D5 crawler dozer. At 170 horsepower (127 kilowatts) and 37,875 to 42,263 pounds (17,180 to 19,170 kilograms), it's a heavier, more powerful replacement for the D6N. The D5 features better steering, a more comfortable cab, and a number of technologies to assist in grading, working on slopes, and fleet management. Variants and options include an LGP (low ground pressure) configuration, a push arm or VPAT (variable power angle tilt) blade (standard or folding), and models optimized for fire, waste management, and forestry applications.
Helping You Do The Work
The D5's engine is a Cat C7.1 diesel meeting Tier 4 Final and Stage V emissions standards. Its transmission is a fully automatic three-speed with a lock-up clutch. The dozer's factory-integrated Cat GRADE with 3D, Cat Slope Indicate, AutoCarry automated blade lift, and other advanced features help to do more precise work in less time. The D5's improved power trail and brake control stems from features such as Hill Descent Control, Hill Hold, Decel Brake Pedal, and Steering Radius Control.
The 20-ton (18-metric-ton) class D5 has a new, roomier cab with a 10-inch touchscreen and adjustable seating and controls. Cat endowed it with 15% more window area and a steeper hood angle for 30% better forward visibility, the manufacturer says, plus a high-definition rear camera. Cat LINK telematics technologies such as Product Link, VisionLink, and Remote Services enable fleet management from a distance, while Operator ID and other features provide secure engine startup and remember operator adjustment settings.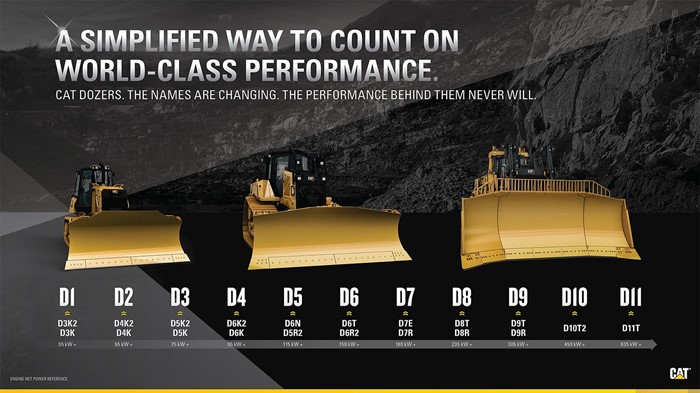 ---
New, Simplified Model Numbers
Cat also says it will be rolling out new, simpler model numbers for its dozers over the next couple of years. The new D1 to D11 monikers will no longer have letters such as N, K, or T at the end.
The small size class range will be D1 to D3 (75+ to 100+ horsepower); D4 to D7 will represent the medium models (125+ to 240+ horsepower); and D8 to D11 will continue to signify the large dozers in Cat's new nomenclature (320+ to 850+ horsepower).
The major shift in model numbers will happen at the small end of the product line. The D1, for instance, will take the place of the existing D3K and D3K2. D2 will supersede the D4K and D4K2, D3 will replace the D5K and D5K2, and D4 will take over from the D6K and D6K2. The D5 appellation will designate the successor to the D5R2 as well as the D6N mentioned above.
Source: Caterpillar
Questions? Comments? Visit the AuctionTime.com Forums to ask questions, get answers, and share your thoughts.