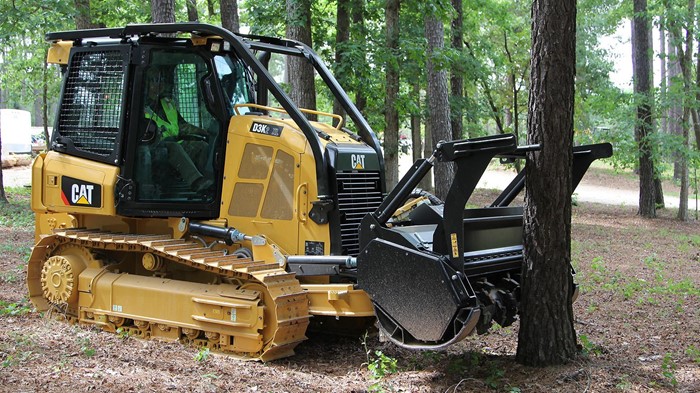 ---
Caterpillar wants to remind its customers of the durability and productivity of its D3K2 Mulcher, as well as its safety and comfort features for the operator. The small-to-medium tree and brush-clearing machine is a D3K2 crawler dozer specially outfitted with a Cat HM518 mulcher, along with the screens, sweeps, and guards necessary to protect itself and its driver from branches and debris. (The HM518 mulcher isn't readily backward-compatible with standard D3K2 dozers, Cat says, so the factory-produced D3K2 Mulcher is the best way to get the combo.)
At 23,746 to 24,698 pounds (10,771 to 11,203 kilograms) depending on configuration, the D3K2 Mulcher fills a niche between a skid-steer mulcher and a larger tractor-based machine. The unit is suitable for construction site clearing, forestry and agricultural applications, and highway side slope and right-of-way maintenance, according to the manufacturer, as well as for clearing trails and fire breaks on rough terrain or soft ground.
---
Makin' Mulch
The Cat HM518 mulcher has a working width of 72 inches (1,822 millimeters) and 38 fixed teeth on its hydraulically driven drum. The teeth are common to other mulchers made by the company. A Poly Chain belt drive can reverse the direction of the drum's rotation to dislodge material when clogs occur. An analog hydraulic pressure gauge is visible to the operator on the top of the mulcher frame to indicate the amount of load it's under, while inside the cab an electronic display shows the drum's current rotation speed and direction.
The D3K2 can tilt the mulcher head 14.5 inches (368 millimeters) to the left or right and angle it 25 degrees side to side in addition to raising and lowering the unit. This allows the driver to follow the contour of a slope or to eject debris in a preferred direction. The mulcher has hydraulically adjustable push arms and a hydraulically operated front hood. Inside its frame are special cladding and replaceable wear strips in high-wear areas.
---
Dozin' Around
The dozer portion of the D3K2 Mulcher is 74.8 or 92.9 inches (1,900 or 2,360 millimeters) wide, depending on whether you order the conventional XL long undercarriage version or the LGP low-ground-pressure edition for use in soft ground conditions such as near wetlands. You can detach the mulcher head and replace it with any of three types of optional Cat VPAT (variable-pitch/angle/tilt) blades as needed.
Standard forestry features include window screens and front/rear sweeps, as well as a crankcase guard and an auto-reversing cooling fan to periodically clear out dust and debris. The pressurized cab comes with big polycarbonate windows, a rearview cam, and A/C. The standard air suspension cloth seat has seat-mounted controls; options include a seat with ventilation or a heated seat and control handles. Cat's Product Link wireless technology also comes standard, and a Bluetooth-compatible radio is an option.
An aftercooled Cat C4.4 turbodiesel engine produces 104 net horsepower (77.6 kilowatts) and meets Tier 4 Final and Stage IV emissions standards. The dual-path, closed-loop, hydrostatic transmission gives the machine a 5.6 mph (9 km/h) max forward travel speed. The dozer's Cat Sealed and Lubricated Track (SALT) undercarriage has a six-roller track frame and front and rear guides to protect against derailment in the woods (a center guiding guard is available). Its load-sensing, closed-loop, three-valve hydraulic system is run by a 17.7-gallon-per-minute (67-liters-per-minute) pump. Additional screens and sweeps are available, as well as an optional winch.
Source: Caterpillar
Questions? Comments? Visit the AuctionTime.com Forums to ask questions, get answers, and share your thoughts.