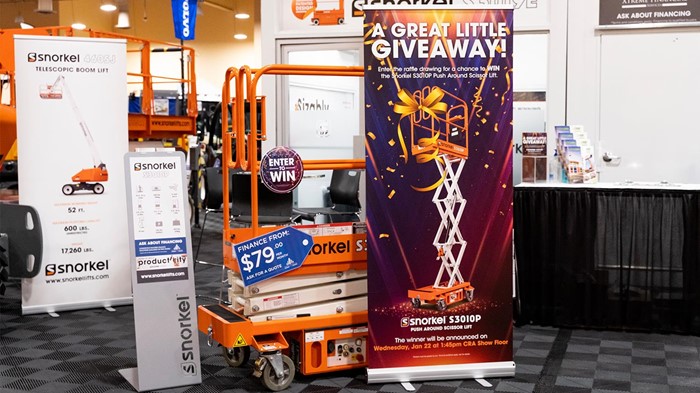 ---
Snorkel has established a tradition of giving away a push-around scissor lift at the CRA (California Rental Association) Rental Rally, and because the show skipped a year in 2019, Snorkel owner Don Ahern decided to draw two winners at the recent 2020 show. The two winners each came away with a Snorkel S3010P, a mini scissor lift that's designed to provide a cost-effective way to safely work at low-level heights indoors.
A Push-Around Scissor Lift That's No Push Over
Built to withstand the demands of construction sites and the rental industry, the Snorkel S3010P can lift 430 pounds (195 kilograms) to a working height of 15 feet, 10 inches (4.82 meters). Snorkel says the scissor lift is well-suited to a range of facility maintenance applications and various tasks on construction sites. The push-around S3010P, which weighs 815 lbs (370 kg), features non-marking casters to navigate confined spaces and can be raised to the full height in 19 seconds and lowered in 26 seconds.
---
Source: Snorkel
Questions? Comments? Visit the AuctionTime.com Forums to ask questions, get answers, and share your thoughts.