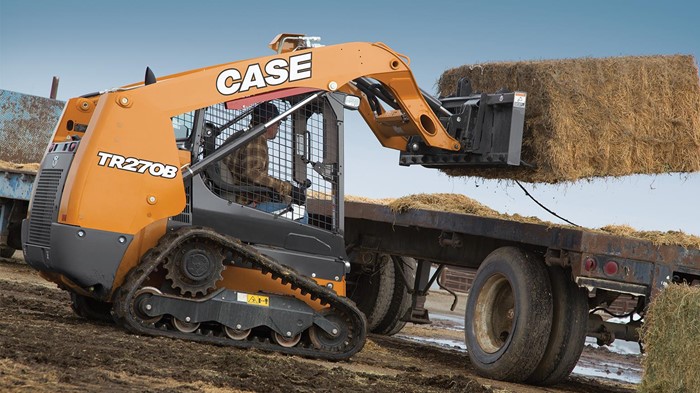 ---
CASE Construction Equipment's new B-Series of track and wheel skid steers consists of five compact track loaders and nine wheeled skid steers available with either mechanical or electro-hydraulic controls. The CTLs range from 74 to 90 horsepower (55 to 67 kilowatts) with operating loads of 2,701 to 4,508 pounds (1,225 to 2,045 kilograms). B-Series skid steers range from 49 to 90 hp (36 to 67 kilowatts) with load ratings of 1,301 to 3,406 lbs (590 to 1,545 kg). Model numbers with a V denote vertical lift patterns, while R models are radial lift units.
"Through the B-Series, CASE CTLs and skid steers have been enhanced to deliver a new and intuitive operating experience while also standing up to the rigors of heavy earthmoving and attachment use," says CASE's Europe Compact Product Manager, Egidio Galano. "The B-Series retains the frame and styling of previous CASE loaders, but with critical operational systems reengineered for greater performance. These have been fully integrated with new control and operator interfaces to give contractors a powerful match of productivity, efficiency, and convenience."
New Features
CASE endowed the B-Series' wide cab with a low entry threshold, more legroom, and several visibility enhancements. A new backup camera, a curved rear window, and a standard cab-wide rearview mirror all help improve the operator's situational awareness. So does the new automotive-style display with more descriptive fault codes. Optional CASE SiteWatch telematics allow dealers to troubleshoot issues and fleet managers to keep tabs on machine status.
The joysticks in the B-Series are more comfortable to use, CASE says, and they receive servo assistance on mechanical skid steer and CTL models. Customizable electro-hydraulic units come with a new 8-inch LCD that shows the rear camera view in split-screen along with machine data, as well as a button to toggle between ISO and H operating patterns. Job settings and user preferences can be saved for later re-use.
---
Breakout Force & Hydraulics
The B-Series loaders offer excellent breakout force, according to the manufacturer. Only the 90-hp models require aftertreatment maintenance, specifically diesel exhaust fluid. A new creep speed feature assists during usage of attachments such as cold planers and rock wheels. The loaders' auxiliary hydraulics come in three levels of flow and pressures of up to 276 bar. The hydraulic lines are removable under pressure without tools. Ride Control and self-leveling features keep the load steady during travel.
Source: CNH Industrial