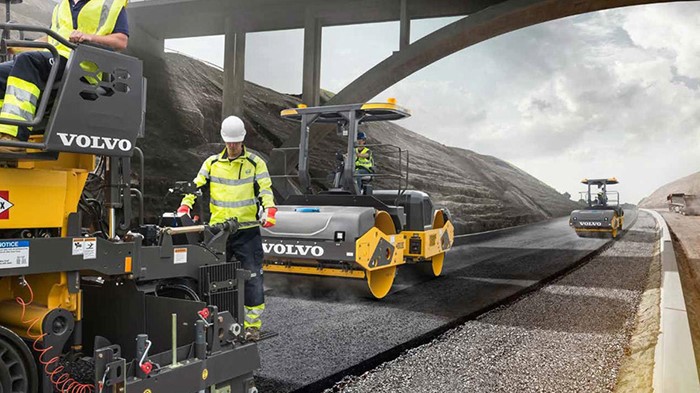 ---
Volvo Construction Equipment says that its new DD128C smooth drum compactor yields the fastest rolling speeds without sacrificing impact spacing or smoothness. The new 78.74-inch (2-meter)-wide roller has a frequency of up to 4,800 vibrations per minute, the highest in the industry.
"The DD128C is our best compactor yet," says Volvo CE's global product manager for compactors, Chad Fluent. "This is the most productive, fuel-efficient, and versatile machine we offer."
Rolling Down The Road
The DD128C comes standard with eight amplitude settings, a Volvo exclusive. With a wider range of amplitudes (0.003-0.03 inches or 0.08-0.8 millimeters) than its competitors, the new roller can compact asphalt layers ranging from the very thin to the very thick (4 in or 10 centimeters). Volvo patented a feature that detects the amplitude and automatically raises the vibration frequency to the correspondingly optimal setting. This allows the compactor to work at its highest possible rolling speed for the conditions.
The drum of the DD128C is 55 in (1.4 m) in diameter and its edges are chamfered and radiused. An automated wetting system keeps it from sticking to the surface. The speed-dependent spray coats the drum uniformly even as it conserves water. The operator can engage a fully redundant backup wetting system in case of a clogged nozzle or other problem.
Volvo says that the DD128C's eccentrics are quick to start rotating and producing vibration. The compactor automatically reverses the eccentrics when the machine is rolling backward, a feature that preserves smoothness, according to the manufacturer.
---
Motivation
The Volvo DD128C has an operating weight of 28,000 pounds (12,700 kilograms) with its ROPS and all ballast. It gets its propulsion from a 148-horsepower Volvo D4 engine. The motor can supply the compactor with all the torque and power it needs at just 1,850 rpm, the company says, which reduces noise and fuel consumption. Optional auto-idling and auto-engine shutdown features also curb fuel usage. The Tier 4 Final motor requires diesel exhaust fluid along with regeneration service every 500 hours.
Operator Station
The high-visibility operator station of the DD128C is ROPS- and FOPS-certified. Isolated from noise and vibration, the platform has an adjustable seat and a 180-degree rotating console. Like the compactor's automatic speed adjustment, the visual Impact Spacing Meter helps the operator maintain smoothness through proper impact spacing.
The operator can use advanced features via the 10-inch Volvo Co-Pilot touchscreen. For example, Compact Assist shows the operator which parts of the mat need additional passes and whether the temperature of the asphalt is still hot enough for good compaction. Meanwhile, Compact Assist with Density Direct provides a real-time view of the mat's density.
Data from the DD128C and its advanced features can be sent wirelessly to headquarters or fleet management. Volvo's CareTrack telematics system supplies location data along with fault codes and service and maintenance information.
Source: Volvo