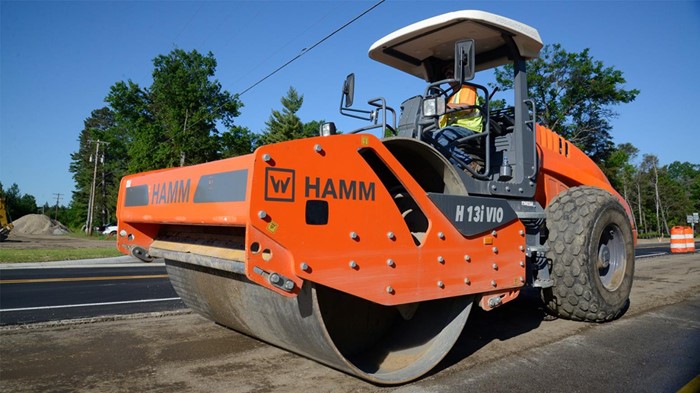 ---
The unique HAMM VIO compaction system endows a single soil compactor drum with the ability to switch from conventional vibration to oscillation to achieve the required density in fewer passes than a traditional approach. A Michigan contractor recently demonstrated the VIO's time savings during a "crush-and-shape" of State Road 72 near Grayling.
A Case Study
D.J. McQuestion & Sons of LeRoy, Michigan, began the recycling in situ process using a Wirtgen WR 240i cold recycler. The Wirtgen ground the asphalt 8 to 10 inches (200 to 250 millimeters) deep in a single pass to reach the roadway's gravel base. The project included two miles of concrete-curbed, four-lane urban pavement and five miles of rural asphalt with 6-foot (1.8-meter) shoulders on both sides.
Next, McQuestion ran a HAMM H 13i VIO earthworks roller compactor in vibration mode twice over the aggregate. "Then we put the drum in oscillation mode and compacted for two to three passes. Doing this, we increased the density with every pass," says Jeff Mertz, project foreman for McQuestion. "The oscillation really pulls the reclaimed material together in a way we don't get with conventional vibratory compaction." The contractor achieved 98% density on the project using the HAMM H 13i VIO.
After the Wirtgen and HAMM pulverized and compacted more than 100,000 square yards (83,600 square meters) of material, the contractor put down 7 in. (178 mm) of hot mix asphalt on the urban street and 4 in. (102 mm) of asphalt on the rural stretch.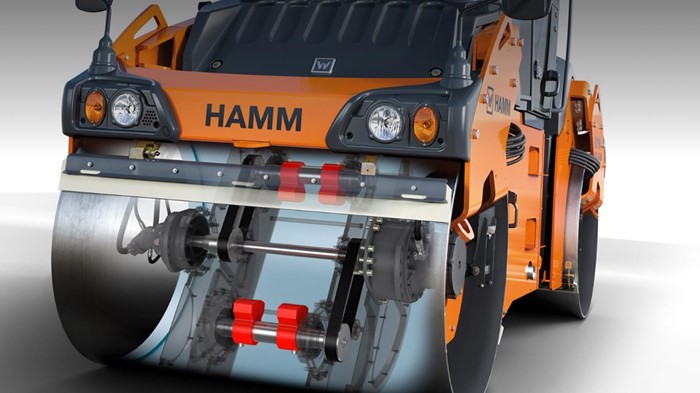 ---
How VIO Works
With the press of a button, a VIO drum can change its imbalance shafts from rotating in phase to create up-and-down vibrational bouncing to its imbalances shifted by 180 degrees to effect clockwise/counterclockwise rotational oscillation. During oscillation, the heavy drum is continuously exerting pressure on the ground, speeding up compaction and reducing the number of passes needed. Oscillation also yields a more even surface with more longitudinal flatness, HAMM says.
"We get density significantly faster with the VIO roller, which boosts our productivity," says Mertz.
The HAMM H 13i VIO Compactor
The H 13i VIO is a 27,805-pound (12,612-kilogram) compactor with an 84.3-in. (2.14-m) drum width. Its 154.1-horsepower (115-kilowatt), four-cylinder engine conforms to EU Stage V and EPA Tier 4 emission standards using DOC (a diesel oxidation catalyst), a DPF (diesel particulate filter), and SCR (selective catalytic reduction).
Source: Wirtgen Group