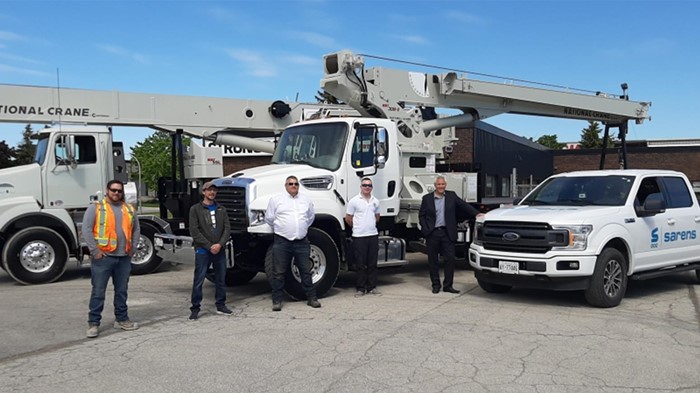 ---
Heavy lift and transport provider Sarens Canada recently purchased three National Crane mounted boom truck cranes to add to its fleet. The company bought a 55-ton (50-metric-ton) NBT55L and two 30-ton (27-metric-ton) NBT30H-2 models from North Bay, Ontario, construction equipment supplier Strongco.
"We'd like to thank Lee Rowe and his team at Sarens Canada for the recent acquisition," says Strongco Territory Manager Chris Gray. "We look forward to supporting Sarens Canada as they continue to grow in the country and other regions."
National NBT55
National NBT55 boom trucks provide a 55-ton lifting capacity and either a 102-foot (31.1-meter), four-section, full-power boom or a 128-ft. (39-m), five-section boom. A 45-ft (13.7-m), two-stage jib helps the crane reach a maximum height of 179 ft (54.6 m). The NBT55 has fully integrated machine control, a load moment indicator, and a hydraulically removable counterweight system. It also includes a new outrigger beam position sensing system to help the operator choose the correct load chart for the situation.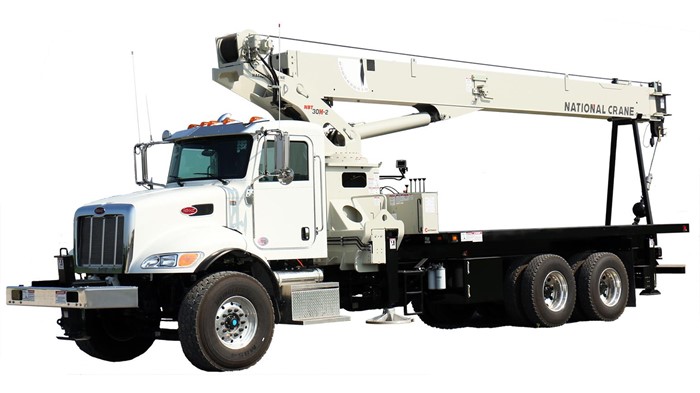 ---
National NBT30H-2
National Crane's NBT30H-2, meanwhile, comes with either a 110-ft (33.5-m) or a 100-ft (30.5-m) four-section boom. With a jib, it can achieve a 163-ft (49.7-m) maximum tip height. The boom truck's 20-ft (6-m), dual H-style outriggers can be deployed to various lengths. The NBT30H-2 offers manual controls on either side of the truck as well as an optional radio remote control. It also features a load-sensing hydraulic system and a graphical, weather-resistant rated capacity limiter (RCL).
Source: Manitowoc