---
Barber Motorsports Park in Birmingham, Alabama, is a paradise for race fans, and the park's racetrack is getting a face-lift with the help of two Wirtgen W 210 Fi cold milling machines, which precisely milled the track in preparation for a new road surface. The rehabilitation effort included the removal of the existing asphalt and base layer, as well as fine-milling the asphalt at variable working depths between 1.2 and 10 centimeters.
Milling Pit Stops
The contracted milling company, Mill It Up, took advantage of the W 210 Fi's Multiple Cutting System to quickly switch out milling drums of identical working widths and maximize milling efficiency and precision. "It's incredible," says Mill It Up owner Kim Butler, "We can change milling drums in eight minutes—I've never seen anything like it." Wirtgen's fine milling drums boast more picks (298 in total) and smaller tool spacing (8-millimeter) than the standard drum used to remove asphalt.
---
Fine Milling Features
Creating a uniform milled surface is critical for racing, and the fine milling capabilities of the Wirtgen W 210 Fi allowed Mill It Up to ensure the new layer bonds perfectly with the existing surface at Barber Motorsports Park. In particular, the machines' Level Pro Active technology (fully integrated into the machine control system) lets operators link key machine functions to each other, which Wirtgen says guarantees precise milling results. At Barber Motorsports Park, Level Pro Active was used to position the machine for a second working pass to create a higher-quality milled surface.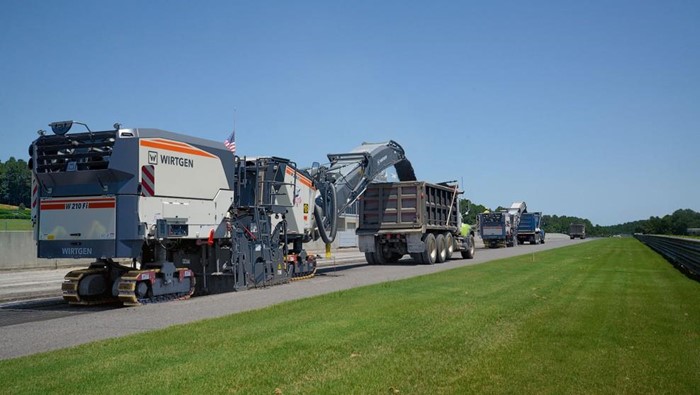 ---
More On The W 210 Fi
Wirtgen powers the W 210 Fi with a Caterpillar C18 ATAAC engine boasting a rated power of 755 horsepower (563 kilowatts). A wide selection of milling drums are available, ranging up to 8 feet, 2 inches (2,500 millimeters) wide. To assist with loading milled materials, there's a 2 ft., 9 in. (850-mm) primary and discharge conveyor.
Source: Wirtgen Group