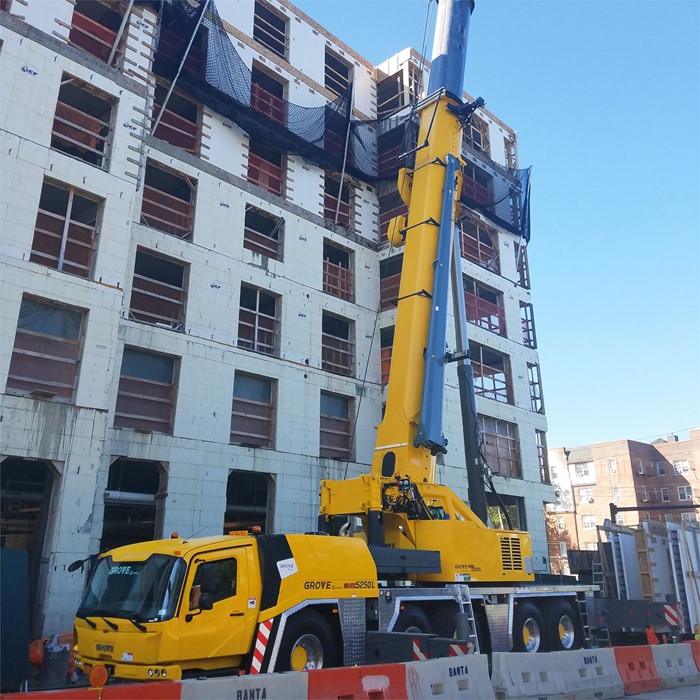 ---
As mobile crane manufacturer Grove says, moving a 300-ton (250-metric-ton) five-axle mobile crane with a 230-foot (70-meter) seven-section main boom through New York City's busy Manhattan streets is no easy task. But Yonkers, New York, crane rental company 24/7 Lifting was able to easily do so and adhere to NYC permit requirements using the Grove GMK5250L. The outfit purchased the crane last year to lift HVAC units and generators to city rooftops that sometimes reach 20 to 30 stories.
One vs. Two
24/7 Lifting also owns a Grove GMK3050B that Scheduling and Estimating Manger John Corr says is perfect for six-story buildings but less so for 20-story or taller lifts in Midtown and Queens. "We got the GMK5250L because air conditioning and electrical companies were asking us for 20-, 30-story lifts, so we decided to bring it into the fleet," he says.
The contractor for a recent concrete beam-lifting job originally believed two 300-t cranes would be needed. The GMK5250L's easy mobility and fast setup and breakdown, however, proved that wrong. "The contractor was very pleased with it," Corr says.
---
Nighttime Vibes
The GMK5250L is also proving beneficial in nighttime lift jobs. After lifting up to 8,000-pound (3,628-kilogram) concrete beams at a 125-ft (38-m) radius during the day in NYC's Montebello suburb, for example, Grove transported it to Manhattan for overnight jobs. "Late at night is when you're able to deal with the logistics of doing picks in Manhattan," says Corr.
The GMK5250L features a 69-ft (21-m) hydraulic swingaway jib, and can reach a 121-ft (37-m) total jib length using a 26-ft (8-m) boom extension, two 26-ft jib inserts, or a combination of both. It also features a 50-degree offset instead of the typical 40-degrees, providing a big advantage when working in the city, Grove says.
Source: Manitowoc