---
Toro has developed a tracked material buggy with the ability to swivel its tub 180 degrees and dump its contents to the left or right side. The new Swivel Mud Buggy, part of Toro's Material Buggy line, has a 16-cubic-foot (0.45-cubic-meter) tub that can carry up to 2,500 pounds (1,135 kilograms) of sand, rock, mulch, or cement.
"Exceptional Precision"
"We know our customers are looking for a machine that focuses on increasing productivity in every way and ensuring that they can get their jobs done with precision," says Toro Marketing Manager Kaitlyn Ingli. "Our Swivel Mud Buggy was engineered to deliver exceptional precision, user-friendly controls, and ultimately, an innovative and highly efficient working experience for Toro end users."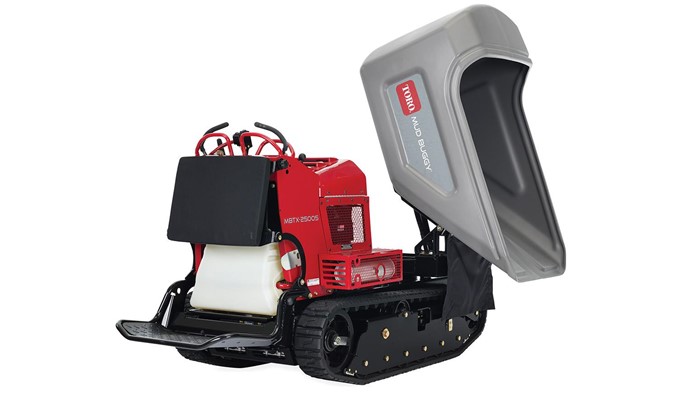 ---
Simple Operation & Service
The new Swivel Mud Buggy is built on the same frame as Toro's MB TX 2500 buggy. It features a redesigned tub made with thicker 3/8-inch (9.5-millimeter) polyethylene walls for durability. The operator can swivel the tub while driving the machine, and the swivel switch moves along with the control handle on the right side. The tub has an auto-return feature so the operator doesn't have to wait for it to return to its traveling position after being dumped.
A 25-horsepower (18.6-kilowatt) KOHLER Confidant engine powers the Swivel Mud Buggy, which weighs roughly 1,575 lbs (714 kg). The machine can travel at up to 6 mph (10 km/h) in a forward direction and up to 3 mph (5 km/h) in reverse on its Endless Kevlar reinforced tracks. Toro says that the Buggy's belts, hydraulics, battery, and engine compartment are all easy to access for maintenance purposes.
Source: Toro