---
Vermeer recently unveiled two new hay and forage product lines: the 604 Pro Generation 3 baler and the 10-series TE tedder. These machines are designed to quickly tackle challenges related to inclement weather to ensure producers can "make more high-quality hay," according to Vermeer. "The 604 Pro G3 and 10-series tedders are packed with new features," says Vermeer Product Manager Josh Vrieze. "We want producers to be able to get into the field at the optimal times to maximize their crop quality, whether they're producing dry hay or high-moisture forage crops."
Vermeer 604 Pro G3 Baler
Vermeer's new 604 Pro G3 baler has steel body panels and other heavy-duty components designed to stand up to difficult conditions. It takes advantage of Vermeer's Atlas Pro control system, which allows the operator to adjust the shape and density of bales and change other settings based on environmental conditions. The Xtracut17 chopper system gives the operator more options out in the field, including the ability to "select from 0, 8, 9, or 17 knives to make the right cut for optimal bale density, silage quality, and digestibility," according to Ty Hartwick, forage solutions engineering manager at Vermeer. The new baler also has a rear netwrap system.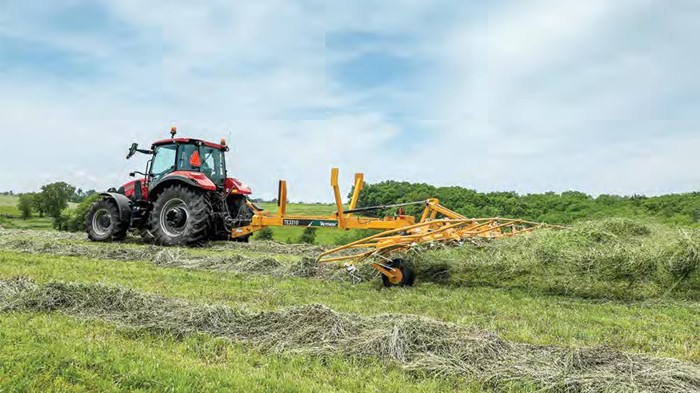 ---
Vermeer 10-Series Tedders
Vermeer designed its new 10-series tedders to speed up the dry-down process when making hay in wet conditions. The new product line consists of the TE1710, TE2510, and TE3310 models, which have tedding widths of 17 feet (5.2 meters), 25 feet (7.6 meters), and 33.5 feet (10.2 meters), respectively. Each of the tedders features tines designed to rotate hay for quicker drying while minimizing breakage, Vermeer explains. Similar to the 604 Pro G3, Vermeer built the 10-series tedders with heavy-duty components, and the hook tines are covered by a three-year limited warranty for added peace of mind.
"If you're actively looking to take control of your hay by reducing harvest loss and improving crop quality — consider the new Vermeer 10-series tedders," says Shawn Wang, Vermeer product manager. "The 10-series tedders create a 'bottoms-up' motion to rotate the dry crop to the bottom and the wet crop to the top, which helps producers evenly dry the crop. These new tedders are built with an enhanced heavy-duty frame to move heavy, wet crop and get a nice, wide and even spread."
You will find a large selection of new and used Vermeer hay and forage equipment for sale at TractorHouse.com.
Source: Vermeer
Questions? Comments? Visit the AuctionTime.com Forums to ask questions, get answers, and share your thoughts.