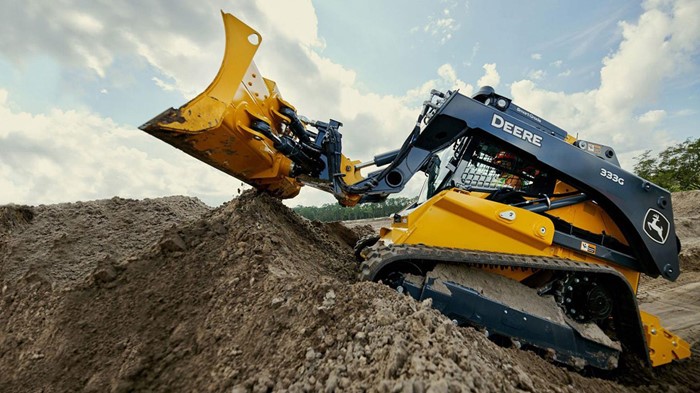 ---
John Deere recently announced it is integrating its proprietary grade-control technology into its 100-horsepower (74.6-kilowatt) 333G Compact Track Loader, marking the first time a "fully integrated grade-control technology will be available on compact equipment." With SmartGrade, Deere says the 333G will expand customers' ability to take on site-development, roadbuilding, landscaping, and residential- and commercial-building operations where grade accuracy is crucial. "By leveraging the latest grade-control technology, the SmartGrade 333G machine levels the playing field with contactors running larger fleets," Deere says.
A Productivity Boost
Deere says SmartGrade will boost the 333G's productivity by making it possible to automatically finish grading tasks faster with fewer passes and less rework as compared to working sans grade-control technology. Deere adds that operators will also benefit from using a "more transportable piece of equipment" with grade control fully integrated into its structures and software, thus providing "precise grading performance while eliminating vulnerable masts and cables."
In addition to SmartGrade, Deere says operators can also benefit from its launch of DozerMode, described as a "breakthrough control solution" that allows Deere's EH (Electro Hydraulic) joystick control system to function "like a crawler dozer" with a push of a button. DozerMode becomes beneficial when operating a John Deere-designed six-way dozer blade attachment that can cut a grade and spread materials, Deere says. Fine-tuned to meet a compact track loader's performance needs, the blade doesn't require tools to switch out attachments. "In conjunction with SmartGrade technology, the blade reduces the amount of operator input, ultimately lowering operator fatigue," Deere says.
More Compact, Easier To Transport
Deere Construction and Forestry Product Marketing Manager Gregg Zupancic says providing customers with leading-edge equipment is important as the market becomes more competitive every day. "Integrating our innovative SmartGrade technology into the 333G Compact Track Loader provides our customers with a solution that is transportable, can fit into tighter spaces and will ultimately reduce labor costs," he says.
Source: Deere & Company