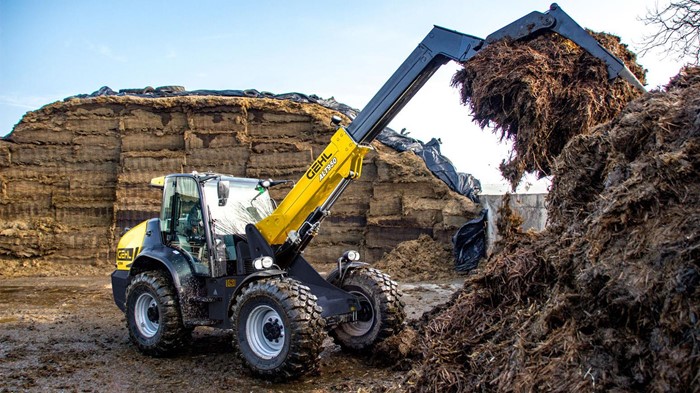 ---
Gehl's new ALT950 offers the versatility of a full-size wheel loader, thanks to a maximum lift height of 17 feet (5.1 meters) and the ability to handle up to 10,974 pounds (4,977 kilograms), with the functionality of an articulated telehandler. "The Gehl ALT950 gives our wheel loader customers a maximum of comfort, visibility, and maneuverability,'' says Frederik Crul, global product manager, wheel loaders. With its sharp turning radius, Gehl's ALT950 is even able to perform a U-turn in cramped quarters.
Capacity Under Load
We've already mentioned the 10,974-lb maximum static tipping load with the forks straight, and the ALT950 also supports a static tipping load of 9,142 lbs (4,147 kg) with the forks full turn. When lifted to the maximum 17-ft height, the ALT950 supports up to 7,050 lbs (3,200 kg). Operators can also equip a bucket that stretches the operating weight to 18,717 lbs (8,490 kg).
Load Control
For steady control during loading, the ALT950 features a multi-function JSM joystick on a floating armrest inside the cab. This joystick lets operators control the telescoping lift arm, bucket, travel direction, and auxiliary hydraulic functions from one place. The loader's inching pedal allows operators to vary the ground speed while maintaining a fixed engine speed, to optimally run attachments while enabling precise control.
Visibility
Gehl says that the ALT950's cab differs from conventional telehandlers in that the cab positions the operator above—instead of behind—the load for safe operation and excellent view of the attachment. The visibility allows the Gehl ALT950 to be used for a variety of applications, including on dairy and cattle farms to clear stables or manure, shift silage, bale handling and transport.
Source: Gehl